I have a day and a half of diligent tracking and clean eating under my belt. I celebrate that. Yay!
Work has begun this program where my monthly premiums will be more or less expensive based on my health and exercise. I now own a Fitbit--a fancy pedomenter that will sync with a dongle (yup, that's what it's called) on my computer and track my exercise.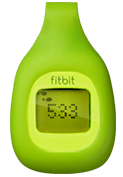 It's so stinkin' cold I don't wanna exercise. Wait, I don't wanna exercise ever, so that can't be my excuse. Hmm. We'll see.
Are you staying active? What's your secret? Tell me, please, please, please!